Upcoming Event:
Friday, 21st February, Maha Shivratri, from 7.30 pm to 9 pm (Shiv Maha Pooja and Bhajans)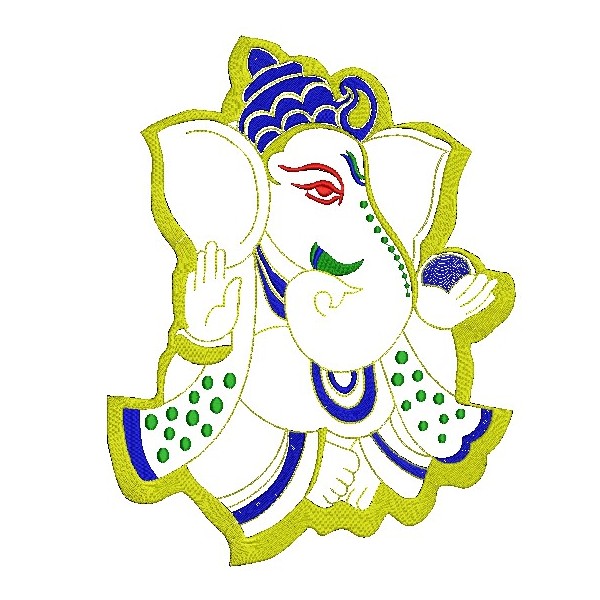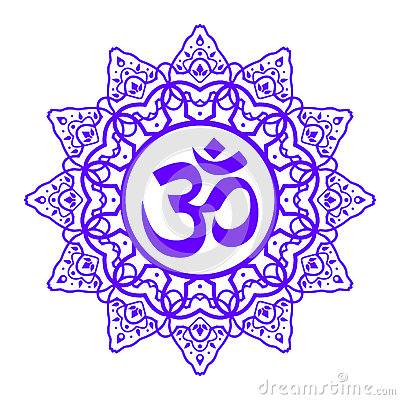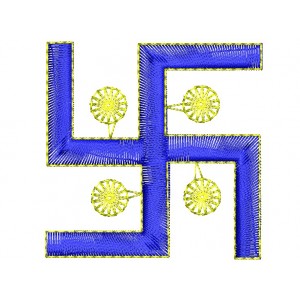 Handbook of Hinduism by M V Nadkarni (Ramakrishna Math)
Handbook of Hinduism – Ancient to Contemporary
Foreword by Swami Harshananda (President, Shri Ramakrishna Math, Bangalore)
Hinduism is not a religion in the sense that is normally understood because it does not have a founder, a book or a church or a uniform way of life. At best we can call it a federation of many sects, cults, groups or even religions. However there is a common thread passing through all of them stringing them together into a beautiful multi-coloured garland.
Sri M.V. Nadkarni in his latest work 'Handbook of Hinduism', has succeeded to a great extent in expounding such a 'complex' religion in nine informative chapters dealing with all the facets of it. Special mention should be made of his treatment of the moral philosophy of Hinduism and a correct picture of the caste system, clearly showing that it is a social arrangement, having nothing to do with religion.
He has given a useful and informative account of all the modern Hindu movement also.
We hope that his book will prove to be a useful addition to the present literature on Hinduism.
Preface
This book is a new, more evolved avatar of my earlier book, Hinduism: A Gandhian Perspective, brought out by the same publishers as first edition in 2006 in hard cover, and as second edition in 2008 in soft cover. This could well have been its third edition, but changes in it have been so many that a new title seemed justified enough. There is a lot that is new, particularly in Part I. This does not mean that I disown any of my views expressed in the earlier book; nothing is lost from the earlier version, but a lot has been added.
In particular, I must emphasise that the Gandhian Perspective which guided and inspired the earlier version retains the same role here as well, though the words, 'Gandhian Perspective', are missing in the title now. Gandhi has not been ignored or belittled in this book, but it covers other ideas too which are not inconsistent with Gandhi's. Particularly, it accommodates Dr. B.R. Ambedkar's views on what Hinduism should be if it has to take a respectable place among world religions, which hardly contradict what Gandhi thought on the matter. Dr. Ambedkar was not only a leader of Dalits but also an incisive scholar on Hinduism. While Gandhi worried over how to reconstruct a reformed Hinduism with its excrescences removed, Dr. Ambedkar's concern was to destroy its meaningless and inhuman codes. Thus both worked for the common objective of building up a humane and morally meaningful religion in place of orthodox Hinduism.
In his famous article on 'Annihilation of Caste' (1936), Dr. Ambedkar distinguished between principles and rules, and insisted that a religion should rest on principles and desist from being a religion of rules. It should give scope for reasoning and moral responsibility, which a religion of rules cannot. He regretted, however, that Hinduism had descended to the status of a rigid code of rules on caste, purity and pollution. In the process, loyalty to moral ideals and principles was sacrificed, and reasoning abandoned. He called upon Hindus to give an ethical-doctrinal basis for their religion based on modern values of equality, fraternity and liberty, and bring the practice of religion into conformity with it. He even hinted that Hindus need not borrow from the West in this task, but can draw from their own resources like the Upanishads (see sections 20 and 21 of the article, reprinted in Rodrigues 2004: 263-305). The revised book here, therefore, shows how within the resources of Hinduism, there lies a religion which can meet the expectations of both Mahatma Gandhi and Dr. Ambedkar. The earlier version (2006, 2008) also tried this, but the present book brings out this fact with greater force, support and clarity.
A basic feature which the book emphasises is its dynamism and free flow. The metaphor of a river suits Hinduism very well – it is not static, it flows. Both change and continuity characterize it. Several streams join it and several streams may also flow out of it, but it retains its identity. It has the ability to purify and refresh itself, if only we do not overburden it with pollutants like dogma and rules of purity and pollution. It finds ways of circumventing obstacles and continuing its course. It is life sustaining for all and belongs to all, and is not the property of a chosen few. The book, therefore, has a cover design showing a river flowing from the mountains, based on a beautiful water colour by Savkur Shyamsundar.
Gunnar Myrdal had famously characterized the Indian state as soft. I am not sure if he is correct. But the religion which the bulk of people of the country follow can be characterized as soft – in a good sense of the term, of course. Rigid austerities may be expected of the sadhaks (spiritual seekers), but Ajamila, a notorious sinner, is said to have attained the highest state (parama-pada) by merely uttering the name of Narayana twice, with a sense of total surrender and heartfelt repentance on his death bed. Strict vegetarianism expected of the sadhaks, but tribal goddesses do not mind accepting goats and chicken as offerings by their devotees whose staple diet consists of these and other hunted animals. A religion which has consistently asserted since ancient times the oneness of God as Ekam, has no qualms in permitting the worship of His manifold – bahudha – forms, left to the devotees' choice. But it would be very misleading to characterize Hinduism as licentious, amoral or unprincipled on this ground. Nevertheless, this softness makes Hinduism a challenging religion to study and understand. This book is a humble attempt in this direction.
The book has two Parts. Part I is about what is Hinduism and what is not. It covers not merely the metaphysics, moral philosophy and Sadhana in Hinduism, but also the egalitarian, liberal and socially engaged aspects of Hinduism, very relevant to the present times. A separate chapter shows why Hinduism is not Brahminism and the Caste system. Part II covers the dynamics of Hinduism, describing and interpreting its growth from the ancient to the contemporary times. The Handbook is thus more comprehensive than its previous version. I have dropped the last two chapters from the earlier book (on the 'Hindu Approach to Development' and 'Future of Religion') by incorporating their essential points in other chapters. I have tried to make the text more concise, while retaining the simple language and presentation as before for easy comprehension. There are also anecdotes and songs which the readers can savour. Concepts, especially Sanskrit terms, are explained as needed, not being content with giving merely English equivalents. Reworking on the earlier version helped me to bring in fresh thoughts, more clarity and reasoning on the whole. I must also clarify that the present book is not intended to be encyclopedic. Several concepts used in the practice of Hinduism and its Sanskaras are not covered in the book, as also the details of Hindu deities and places of pilgrimage. For more details on Hinduism, readers may refer to the monumental work of Swami Harshananda (2008).
It is not the intention of the book to present Hinduism as the ideal or the greatest of all religions or a wonderland free from any deficiency. No single religion can be said to be perfect, as Gandhi asserted. This requires a constant rediscovery of basic and universal values from time to time in each religion, so that morally repugnant beliefs and practices which have grown as excrescence can be removed.
Caste barriers and untouchability, indifference to poverty and suffering of others, and condemning women to a lower status and exploiting them are obvious examples of this excrescence. Rediscovering is not going back; it is not a fundamentalist move to impose some orthodox notion of purity. It is, on the contrary, a process of refreshing oneself and being open to reasoning and dialogue, being sensitive to human rights – especially the rights of the weak and the meek, recognizing the need to ensure freedom to everyone to enrich one's personality and potential, and being serious in environmental concern. Such an attempt is important because the greatest challenge to any religion comes from within, not from outside. Introspection about weaknesses within our own society, particularly to strengthen the moral fibre of all in the society, alone can save us. To do this, it is not necessary to be paranoid about dangers from outside, particularly about the aggressiveness of other religions.
It is a matter of great privilege and honour for me to have 'Blessings' for my book from Swami Harshanandaji, President, Shri Ramakrishna Math, Bangalore. He is highly regarded for his profound scholarship and knowledge of Hinduism. I am deeply indebted to him.
Unless otherwise indicated, the translations of original verses and poems in to English have been made by me. However, Prof R.S. Deshpande, Mrs. Sharada Rao and Mr. V.K. Jain helped me in understanding clearly the meaning of several Marathi and Hindi poems. The encouragement that I received from my friends and family on the earlier versions helped me bring out this one too. I have acknowledged their help in the earlier editions, but I mention a few of them here – Professors V.R. Panchamukhi, V.M. Rao, K.T. Pandurangi, and C.T. Kurien; my daughter Saraswati and sons – Anirudh and Makarand, and their families; my brother Kishore and his family; and my sisters-in-law Girija and Shanta and their families. Chinmay, my son-in-law, presented me with several valuable books published abroad, which were of great help. T. Amarnath diligently typed a few of the chapters. Rajesh Vorkady took a lot of active interest in the book.
Pradeep Chakraborty and my brother, Kishore, kindly went through the whole MS and added grace to my book by correcting many typos and careless mistakes. Sunita Nadkarni not only gifted several precious books from the collection of her late husband, Vivekanand, but also graciously did an expert and meticulous editing of the manuscript, as a result of which my presentation has gained in elegance. They also gave good suggestions. S. Subramanian helped by promptly providing the needed reference material from websites. Subhashree Bannerjee – my 'grand student' and deemed daughter, helped in several ways on the computer. My hearty thanks are due to all of them, including of course to my cousin, S. Shyamsundar who permitted me to use his water colour picture for the cover design.
Memory of my dear wife Ganga has been a sustaining source of inspiration in this work too. Paradoxically, I continue to miss her terribly, but still feel she is with me all the while.
I am especially grateful to the readers and reviewers of the earlier editions whose views, reactions and suggestions helped me significantly in reworking on this book.
I also thank my publishers – Ane Books Pvt. Ltd, especially its CEO, J.R. Kapoor, who prodded me into preparing this version with a new title and cover design and did a good job of publishing it.
My readers may kindly note the Key to Transliteration and Pronunciation (that follows this Preface) before going through the text. I have devised my own key, relying only on underlining, which is much simpler and does not need any special software. It thus avoids distortion of the text that results from transferring the text from one computer to another which does not have the special software.
M.V. Nadkarni
April, 2013
……..For the complete book, Download eBook at the link below

Handbook of Hinduism by M V Nadkarni (Ramakrishna Math)
Recent Uploads:

Purpose of Ritual Worship by Sri Nandanandana dasa


Hindu Rituals and Routines – Swaminarayan


Hinduism – a Short Introduction (courtesy of Shree Geeta Bhawan – Midlands)


Hindu Dharma by Bansi Pandit (summary)


Hindu Dharma Part 1 by Jagadguru Sri Chandrasekharendra Saraswati Swamigal


Hindu Dharma Part 2 by Jagadguru Sri Chandrasekharendra Saraswati Swamigal


Hindu Dharma – The Universal Way of Life – Voice of the Guru – Pujya Sri Chandrasekharendra Sarasvati Swami


Bhagavad Gita Explained by Dnyaneshwar Maharaj


Bhagavad Gita Explained by Dnyaneshwar Maharaj (Gujarati)


Bhagavad Gita by Swami Sivananda


Bhagavad Gita according to Mahatma Gandhi


Bhagavad Gita Translated by Winthrop Sargeant


The Song Celestial – Bhagavad Gita Translated by Sir Edwin Arnold


Bhagavad Gita -_ Explanation by T N Sethumadhavan


Bhagavad Gita – Explanation by T N Sethumadhavan (Gujarati)


Bhagavad Gita Translated by Winthrop Sargeant – Summary in English


Essays on Gita – Sri Aurobindo


Education in the Vision of Swami Vivekananda article – English


Kindle Life (Ignite Life) by Swami Chinmayananda (Summary Notes)


Handbook of Hinduism by M V Nadkarni (Ramakrishna Math)


Download Lecture Series by Swami Vivekananda (1897) all in one compressed Zip File



> Download Vivekananda Lectures in one Zip File
 Calendar of Events 2020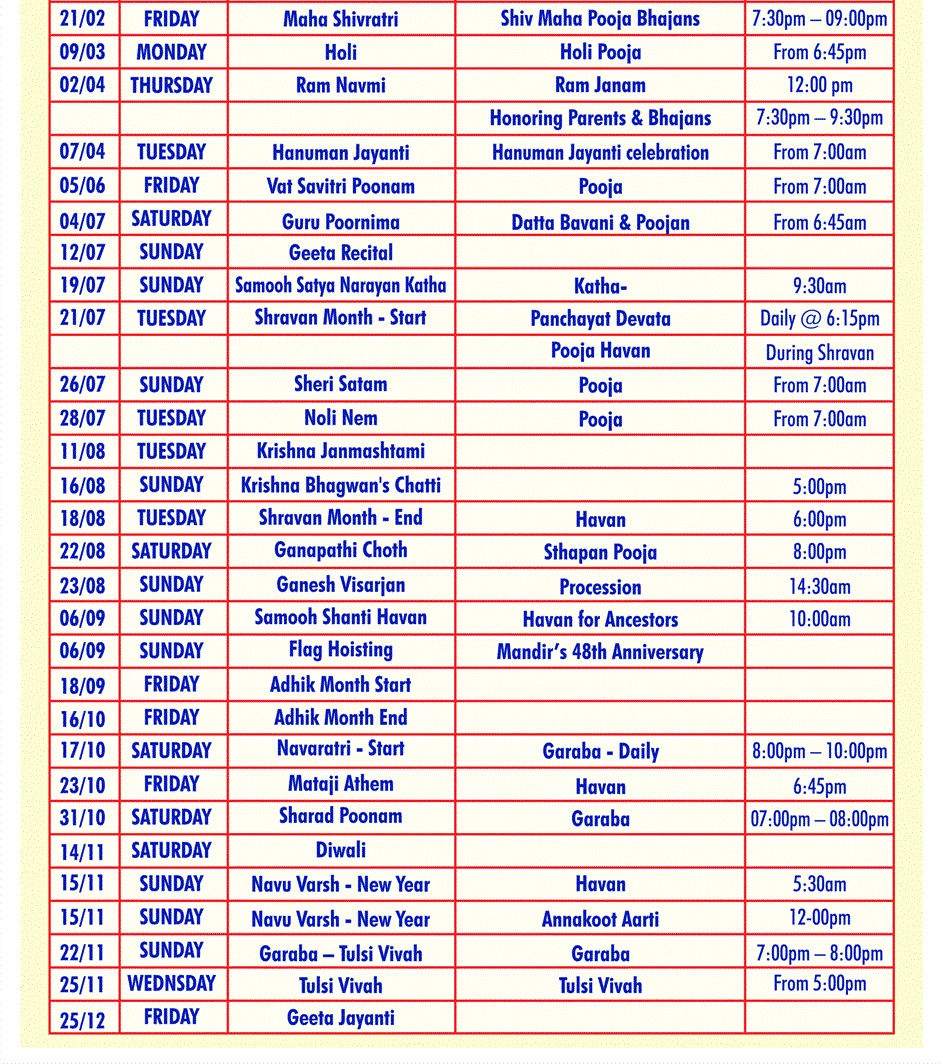 Rare Documentary on Swami Vivekananda
Sri Ramakrishna and the Great Disciplines
Sri Ramakrishna Paramahansa – Documentary
Sri Ramakrishna & the Kali temple Documentary
Swami Vivekananda – Laws of Life 1
Swami Vivekananda – Laws of Life 2
Navami Homa during Durga Puja on 29 Sept. 2017
Sri Ramakrishna Aratrikam (Vesper Service of Ramakrishna Order)
Vedic Calendar
Panchangam
India Travel Sites
Vegetarian Resources
Popular Hinduism Blogs/Sites 2
Hinduism News Sites
Links
Miscellaneous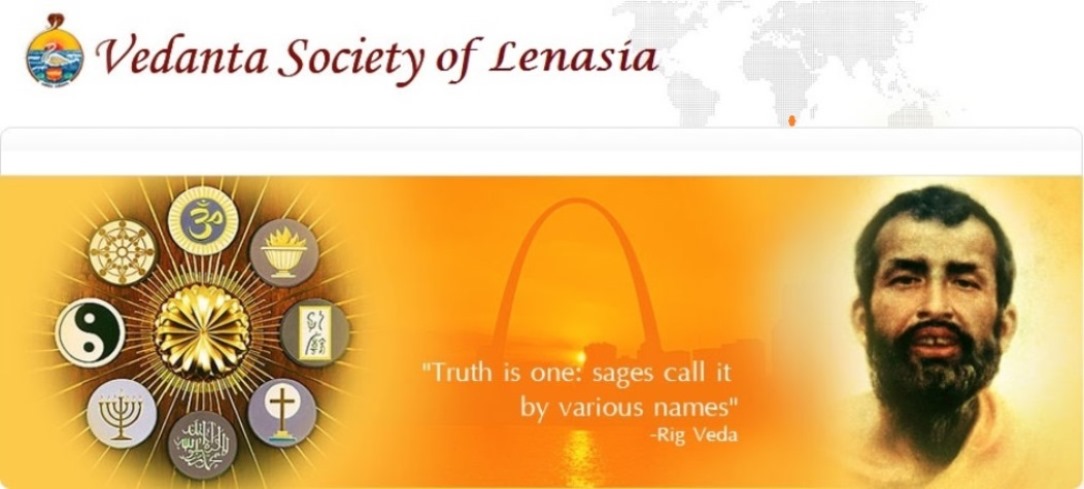 Download eBooks [courtesy of Ramakrishna Belur Math]
Ramakrishna – Belur Math Videos
BELUR MATH | The heart of Ramakrishna Movement
Documentary – Life in Ramakrishna Mission Home – The Man Making Education – Part 1
Documentary – Life in Ramakrishna Mission Home – The Man Making Education – Part 2
Maha Shivaratri Celebration February 2017.
Charaiveti (??????? – Go ahead)
Ramakrishna Mission Ashrama (Narainpur)
Swami Vivekananda – Life Story
Chicago Speeches Of Swami Vivekananda
Hinduism Videos
Schedule of Events
Weekly Activities
| Day | Event | Time |
| --- | --- | --- |
| Daily | Aarti | 06:30 and 18:30 |
| Tuesday | Vedic Chanting | 19:45 – 20:45 |
| Wednesday | Gita Classes | 19:45 – 20:45 |
| Thursday | Bhagwat Classes | 19:45 – 20:45 |
| Friday | Lakshmi Haven | 18:45 – 19:15 |
| Saturday | Hanuman Haven | 06:45 – 07:15 |
| Sunday | Children's School | 09.00 to 11.00 |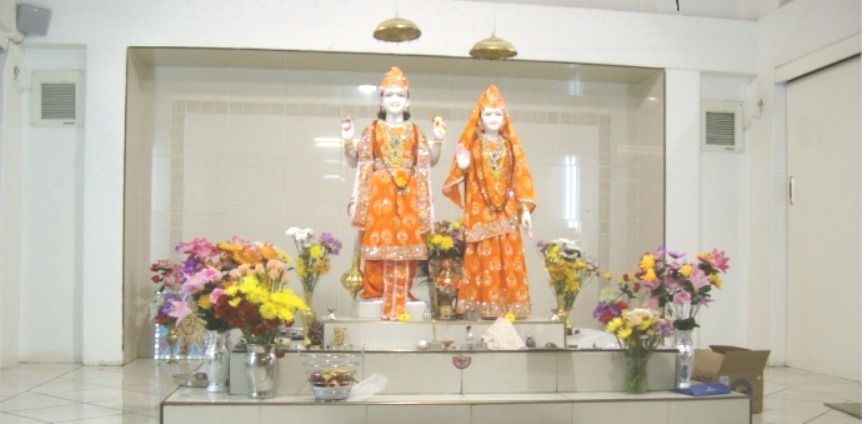 Temple Address
Lakshmi Narayan Mandir, 44-46 Kingfisher Street, Ext 1, Lenasia, Johannesburg,
Gauteng, South Africa
Presiding Priest: Shree Jaydhevbai Shukla – Telephone Number: 011 854 6372